"

Professionalism, Experience, and Talent! It's Time You Knew... Detroit Blu!" - Steve Soviak
— Blues Society Radio Network, & Festival Radio
Press Photos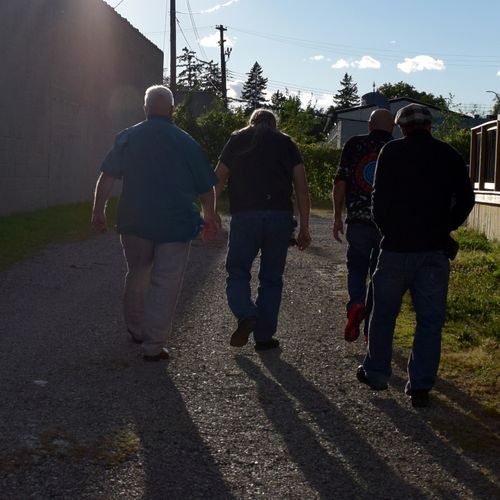 DETROIT BLU
Detroit Blu is a collection of dedicated professional musicians, committed to and passionate about making good music. Founders Christopher Leigh and Fred Crandal are joined by bassist Frank Rubio and percussionist Donny Burton.
Christopher Leigh, Guitar/Vocals
Front man, singer/songwriter, guitarist, and recording artist, Christopher cut his blues teeth hanging out with local artists at nightclubs like The Attic, Moby Dick's, Sully's, The Soup Kitchen, & The Famous Holly Hotel. He has performed with many blues artists from the Motor City, including John Goins and the Motor City Big 4, Joe Saliz, Jeff Maylin, Nikki James and the Flamethrowers, Odell Bailey & Louisiana Heat, The Shirley Franklin Blues Band, Dave's Not Here, Lil' Mac Collins and the Party Makers, The King snakes, Uncle Jessie White and the 29th Street Blues Band, Johnny Yardog Jones, The Battle Alley Blues Band, The Blue Collar Blues Band, The Light Fingered Four, The Butler Twins, Mr. Bo, Cathy Davis, & Lou Rye, 
He's worked with Chicago recording artists Junior Wells, Koko Taylor, Big Time Sara, Queen Audry Roy, Larry Burton and Detroit recording artists Catfish Hodge, Robert Pen, Peter Mad Cat Ruth, The Alley Katz, The Broken Arrow Blues Band, The James Cloyd Jr Band, Tosha Owens, and Zoom.
Discography:
Going Alley On Your Mind - The Ally Katz
Blues at Midnight -Lou Rye
Blue Mood - No Cover Records
Blues For Katrina - Hurricane Relief Project
I Don't Know - The Boogie Chillens
GottaBoogie - The Christopher Leigh Band
Fred Crandal, Harmonica
Fred received his first harmonica in 1972 and performed his first professional gig in 1975 and has participated in a five recording projects.   Fred's worked with country rock bands, blues bands, bluegrass, and folk artists across the country.  He has performed with some greats, including Free the Honey and the Stacey Michhart Band and has sat in with blues giants Smoky Greenwell and Mark Wenner. 
Fred has studied with Jason Ricci and Richard Salwitz (Magic Dick).
Frank Rubio, Bass Guitar
Frank started playing guitar at age 10. At the age of 14 he was a member of Detroit R&B artist Gino Washington's band.  A member of The Flamethrowers, he is a recipient of a Metro Times music award and opened for Gregg Allman, Mountain, War, and Eric Burdon.
Donny Burton, Drums
Donny Burton, Drums
Donny fell in love with the Blues in 8th grade. He began with pantomiming to Beatles songs, joined the Orchestra, then the Drum & Bugle Corps, and then moved on to rock bands.  Donny was a member of The Case, Port Huron's first heavy metal band, and opened for Bob Seger, Iggy Pop, SRC, Savage Grace, and others.  In 1971 he hit the road, joined Lion in South Carolina, and toured the Southeast US for a few years.  In the mid 70's he formed a new band, Rat (his nickname and the name of his first band) and hung out in the Tampa area with The Chamber Brothers, worked with Jay and the Americans and even jammed with Nazareth. 
5 years later Donny joined Motown artists My Friends, a career cut short when their manager was killed in a car crash.  Since then, it has been blues, blues, blues with the likes of CJ Morris, Two Blue Feet, and The Jeff Hoagland Blues Band.  Today he is all in with Detroit Blu, working hard to bring you the best blues on the planet.